Here is the warranty:
4.1 Warranty term: Twelve months after date to the initial user or 1500 working hours,whichever occurs first.
4.2 During the warranty period, if any damage occurs due to reason of inferior quality, material or bad workmanship, the Seller shall provide new parts needed to correct the damage to the Buyer鈥檚 port at the Seller鈥檚 cost. The Buyer shall immediately notify the Seller of such occurrence in writing, and provide the Seller with sufficient evidence.
4.3 If needed, the Seller shall dispatch an experienced technician to Buyer鈥檚 country charge maintain or repairs for the defects of quality of the goods in the warranty period. The visa fare and international airfare is borne by Seller and expenses of technician during stay in Buyer鈥檚 country will be borne by Buyer.
4.4 Within the warranty period, the Buyer shall carry out after-sale service at its own expense, however, the Seller shall assist the Buyer to repair or replace the defective components and parts raised from the wrong and abnormal operations at the Buyer鈥檚 cost.
Here is the technical data for SD6G:
SD6G Bulldozer
Engine

Model

C6121ZG72B

Type

water-cooled, single-row, vertical, 4-stroke-cycle, turbo-charged

Rated revolution (rpm)

1900rpm

Rated power (KW)

131kw

Rated fuel consumption (g/kw.h)

215

Max. torque (N.m/rpm)

770/1400

Starting Mode

24V electric starting

Main Specification

Operating Weight (kg)

16200kg

Ripper weight (kg)

1600kg

Ground pressure(kPa)

55.23kPa

Minimum ground clearance (mm)

445mm

Grade ability (0)

300

Crawler grounding length(mm)

2667

Crawler center distance (mm)

1880mm

Maximum traction

145KN

Dozing operation rate(moving distance 40m)

320m3/h

Theory travel speed (km/h)

1st gear forward 0-4.0

1st gear backward 0-4.8

2nd gear forward 0-6.9

2nd gear backward 0-8.4

3rd gear forward 0-10.9

3rd gear backward 0-12.9

Power transmitting system

Torque converter

Single-stage, single-phase, 3-element

Transmission

Planetary gear, multi-disc clutch, hydraulic engaged, forced lubrication

Main drive

Spiral bevel gear, single-stage speed reduction, splash lubrication

Steering clutch

Wet, multi-disc, spring loaded, hydraulically separated, hydraulic control

Steering brake

Oil-cooled, hydraulically-boosted two direction contracting band brakes with foot pedal control

Final drive

Double spur gear reduction

Undercarriage system

Type

Swing type of sprayed beam, suspended structure of equalizer bar

Number of carrier rollers (each side)

2

Number of track rollers (each side)

7

Track type

Assembled single-grouser shoes(39/each side)

Width of track shoes(Standard)

560mm

Pitch

203mm

Implement hydraulic system

Max pressure

15.5Mpa

Pump type

Double gear pump

Discharge

178L/min

Control valve type

Sliding valve

Bore of the working cylinder X number

100mm x 1

Bore X NO. (Tilting cylinder)

1500mm x 1

ROPS/FOPS with air conditioner cab

The cab is hexagonal thin wall box-type structure. Glass is mounted at six sides with wide view area. Pulling and pushing glass is installed at back side. Air conditioner adapts a type of cooling and heating. The structure of Rop/FOPS is rigid. It can protect the driver efficiently when the bulldozer is in special condition.

Working equipment

Track ground contact length A

2667

6140

1170

3077

3270

1880

592

998

4.5

2667

5156

1140

3077

3762

1880

510

1040

4.3
Here is the sample pic of SD6GLGP.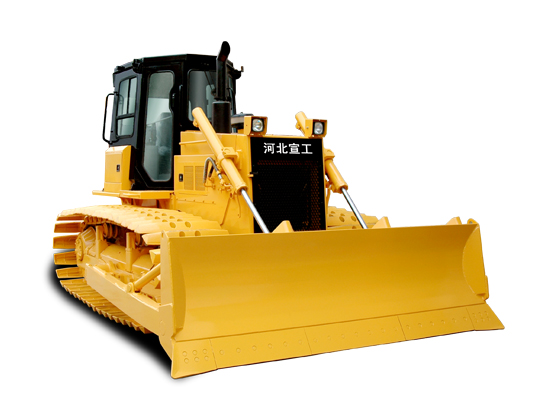 China's Number One Track Bulldozer Producer